The Taxation Is Theft Podcast:
All the ways the government is ripping you off, and what you can do to stop them!

This veteran wants to put politicians in their place.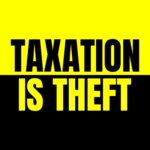 John Molnar fought in Iraq and was horrified by what he saw. Now he is running for congress to make a change. John thinks the politicians that happily start these wars need to face consequences for their actions. They have blood on their hands and they have to pay for their decisions. As always, check us out at taxationistheft.info and remember, taxation is theft!