The Taxation Is Theft Podcast:
All the ways the government is ripping you off, and what you can do to stop them!

Stop Paying Income Tax, says Freedom Law School with Peymon Mottahedeh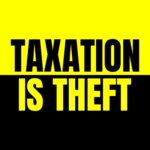 Freedom Law School was founded by Peymon Mottahedeh, a veteran in the Tax Honesty movement. Peymon has fought the IRS and won, in court and out of court, many times. He has worked along side many of the experts like IRS whistle blower Joe Banister. Peymon has helped thousands of students to legally stop paying income tax, and even backs up his claims with a million dollar guarantee!
This episode is a live conversation recorded on the Clubhouse App, where real listeners ask their questions and have them answered by Peymon Mottahedeh of Freedom Law School and Dan Taxation Is Theft Behrman. If you've ever struggled to understand why you shouldn't be paying taxes, this episode is for you.
This episode was sponsored by Blood of Tyrants Wine. Get $5 off your first order when you use the code NOTAXES at BloodOfTyrants.wine.
You can learn more about the freedom law school at LiveFreeNow.org.