The Taxation Is Theft Podcast:
All the ways the government is ripping you off, and what you can do to stop them!

Stop Paying Traffic Tickets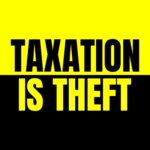 Take a deep dive in to the true nature of traffic tickets and why you shouldn't be paying them. While most Americans believe that traffic violations are small criminal cases, that simply isn't true. Most traffic citations are contract violations which the government often has no jurisdiction to prosecute or enforce. Knowledge is power, and this Q&A session will help peel back the curtain so you can see the true nature of traffic citations and how to avoid paying them.
This episode is a live conversation recorded on the Clubhouse App, where real listeners ask their questions. If you want to understand the true nature of traffic tickets and traffic courts, this episode is for you.
This episode was sponsored by Blood of Tyrants Wine. Get $5 off your first order when you use the code NOTAXES at BloodOfTyrants.wine.