The Taxation Is Theft Podcast:
All the ways the government is ripping you off, and what you can do to stop them!

Former Fed and IRS Whistle Blower Joe Banister Speaks Up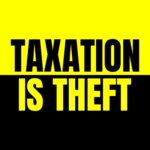 Joe Banister earned his badge in the 1990s, when he was working for the IRS and learned that there is no law requiring most Americans to pay the income tax. Knowing that he was working for an organization that was illegally robbing millions of Americans, he confronted his superiors. They refused to budge as if they knew all along. Joe quit the IRS and quit filing. He has been sued several times by the IRS but beat every single case. Now he speaks up about why Americans should stop paying the IRS.
This episode is a live conversation recorded on the Clubhouse App, where real listeners ask their questions and have them answered by Joe Banister and Dan Taxation Is Theft Behrman. If you've ever struggled to understand why you shouldn't be paying taxes, this episode is for you.
This episode was sponsored by Blood of Tyrants Wine. Get $5 off your first order when you use the code NOTAXES at BloodOfTyrants.wine.