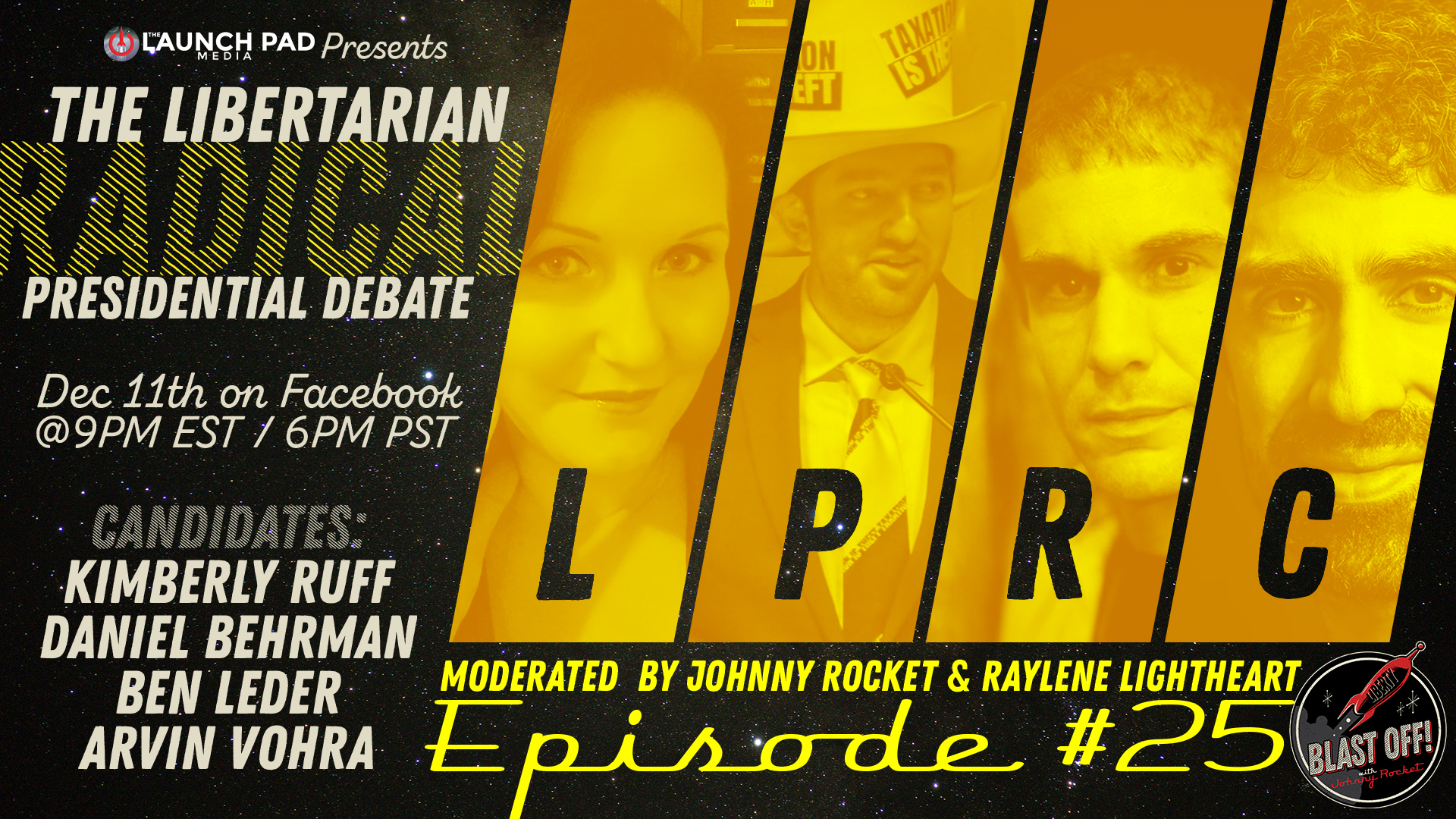 Blast Off! With Johnny Rocket: The 1st Libertarian Party Radical This show was originally broadcast on Johnny Rocket's blastoffshow.com
Show Summary:  The first Libertarian Presidential debate was held on December 11th, 2018 for the 2020 election on the birthday of the Libertarian Party!  Each candidate made a three-minute opening statement, and was presented many questions including social media, taxes, war, and power!
The rules were the candidates had 2 minutes to answer each question, for all follow up responses candidates had 1 minute. It was a pleasure to have Kim Ruff, Daniel Behrman, Arvin Vohra, and Ben Leder on the show! The best of luck to all of you, and thanks for letting us be the first! To hear the full debate please subscribe to supportblastoff.com
About The Guest(s):
Candidate One: Kim Ruff is an Operations Director for a Plastic and Steel Fabrication Plant, Libertarian Party Activist, and mother of two. Kim Ruff has been an active member of the LP since 2009.
During her tenure, she founded the Niagara County LP, participated on the 2017 LP Bylaws Committee, served as Secretary, Vice Chair, and Arizona State Coordinator of the Libertarian Party Radical Caucus, sat on multiple committees on both the county and state level in Arizona and New York, and has worked in various capacities for local, state, and federal Libertarian Candidates.
Candidate Two:  Dan "Taxation Is Theft" Behrman is a software engineer, entrepreneur, and speaker on
government, economics, and technology. For years, he has directed his ingenuity towards
government – finding flaws in the system in need of repair, opportunities for corruption that need
to be removed, and searching for innovative solutions that would allow both the left and the right
to get what they want, without having to take from the other side. His creative solutions have
found support from around the world. He previously ran for the Texas State House of
Representatives in 2014.
Candidate Three: Arvin Vohra is an American politician, author, educator, and former vice-chairman of the Libertarian National Committee. Vohra ran for the Maryland House of Delegates once, and for U.S. House twice, as a Libertarian. He was a candidate for U.S. Senate in the 2018 election in Maryland. Arvin Vohra founded a company that helps students who are taking college-entrance exams. His Vohra Method approach uses non-linear worksheets to provide individual learning in group classes. And the author of the Already acclaimed and controversial book Pull-Out!
Candidate Four: Ben Leder was born in the city of Dallas in 1983, and has been a lifelong resident of Texas.  Having been an entrepreneur since his early youth, Ben has enjoyed spending most of his adult life creating jobs for the people in our community.  Being a staunch advocate for the rights of the individual, Ben believes that the Libertarian brand is the best vehicle to carry the message of liberty forward.
About The Host: Johnny "Rocket" Adams was the creator and host of "The Johnny Rocket Launch Pad – Libertarian Rock n' Roll Experience" and now "BLAST OFF with Johnny Rocket!" He's also a musician, graphic artist, author, and former Chief Warrant Officer. Johnny spent his early days earning his stripes as a helicopter pilot in the U.S. Army. Back stateside, Johnny immersed himself in the classic works of Murray Rothbard, Henry Hazlitt, and Ludwig von Mises. From there the AnCap known as "Johnny Rocket" was born. Speaking truth to power from your cell phone tower, Johnny digests the philosophy of liberty and brings them to the man on the street on a weekly basis. Johnny Rocket was also the front-man of the rockabilly group "Hot Roddin' Romeos" and puts pencil to paper with the critically acclaimed comic series "The Liberty Force." New York Times best-selling author and podcast host Tom Woods calls Johnny Rocket "one of the most entertaining figures in the liberty movement."
About the Co-Host: Raylene Lightheart is an activist in the libertarian movement.  She is a dedicated wife and homeschool mom of five.  She is passionate about self-ownership, free association community, and unfettered liberty.  Raylene is the director of marketing and sales of Launchpad Media Group.
She is the assistant communications director for Libertarian Party of Washington State and also serves as Region 3 alternate. She also is on the board of Libertarian Party of Kitsap County and was awarded the 2018 Porcupine Award for LPWA.   As a child, Raylene dreamed of being in broadcasting.  When Johnny asked her to be the co-host for his new show, Blast Off! With Johnny Rocket she was thrilled to have the opportunity to advance liberty through education, outreach, and entertainment.
About Ground Control: Benjamin Wiegold is a fellow Libertarian, from the corrupt state of Illinois. Ben is the new producer, sound engineer, and editor of the Blast Off! With Johnny Rocket. Ben has also done work for the Mises Institute and numerous other publications. Ben is a musician, hardcore anarchist, and just an all-around cool dude!
Host Website:  www.blastoffshow.com or thelaunchpadmedia.com/blastoff
Guest Website(s):
Kim Ruff- www.ruffphillips2020.org
Daniel Behrman- www.behrman2020.com
Arvin Vohra- www.votevohra.com
Ben Leder  –benleder.com/