The Taxation Is Theft Podcast:
All the ways the government is ripping you off, and what you can do to stop them!

Canna get some cannabis? GI Mary Jane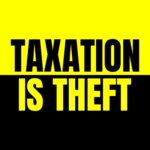 The MORE Act and More! Today we have G.I Mary Jane on the show! Jane is a full time activist and a commander in keef at platoon 420. Swing by Slab city if you can! Don't forget the smoke out 4th of July in DC! And remember to check us out at taxationistheft.info Never forget that Taxation is Theft!