The Taxation Is Theft Podcast:
All the ways the government is ripping you off, and what you can do to stop them!

Debate: Can you be a real libertarian and also run for office?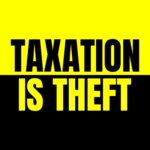 A follower, Tovarisch Agorist, reached out with an interesting proposition for a debate. We are going to discuss whether or not it is appropriate for a libertarian to work for the political system.
As always, check us out at taxationistheft.info and remember, taxation is theft