The Taxation Is Theft Podcast:
All the ways the government is ripping you off, and what you can do to stop them!

$GME with a Wall Street pro trader – TO THE MOON!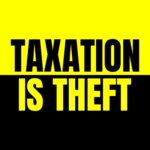 Brought to you by Nugg of Knowledge at nuggofknowledge.com
Taxation is theft presents Alex Merced, former vice-chair of the Libertarian National Committee and professional Wall Street trader. We're going to talk about $GME, trading, shorting and whether or not Dogecoin will ever walk in Neil Armstrongs footsteps.
And remember to check us out at taxationistheft.info Never forget that Taxation is Theft! As always, we are streaming on multiple platforms!
Find us on Facebook at https://facebook.com/taxationistheft2
And on YouTube at https://youtube.com/taxationistheft