The Taxation Is Theft Podcast:
All the ways the government is ripping you off, and what you can do to stop them!

How to Steal an Election – With Aria DiMezzo, Trans Anarchist Satanist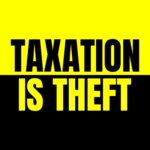 'A Giant Middle Finger to the Entire System': Trans Anarchist Satanist Runs for Sheriff. She won the election by putting an R next to her name, and that's how stupid this whole system is.