The Taxation Is Theft Podcast:
All the ways the government is ripping you off, and what you can do to stop them!

Libertarian Socialism? How much can we actually agree on?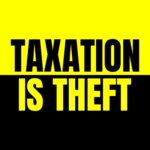 A tweet caught my eye, and it was from an unlikely source. At least I thought. This turned into a great conversation with someone who you might think would completely disagree with me on everything. What is Libertarian Socialism? Tune in to this great conversation with John Gordon.
Learn more / Follow Johnathon Gordon:
https://www.facebook.com/Johnathon.D.Gordon/
https://twitter.com/JohnDGordon?s=09