The Taxation Is Theft Podcast:
All the ways the government is ripping you off, and what you can do to stop them!

Fun with Friends – Libertarian Candidate Panel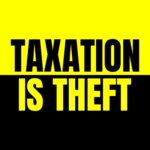 My friends and I are all running for offices, this is what we do in our spare time. Which is literally almost never. Thomas Quiter: https://TomTor52.com/seminar
Myra Matejka: https://matejkainthehouse.com
Duane Whitmer: https://duanewhitmer.com
Check us out at taxationistheft.info and remember, taxation is theft!