The Taxation Is Theft Podcast:
All the ways the government is ripping you off, and what you can do to stop them!
Nick Sarwark, LP Chair on Taxation Is Theft Live!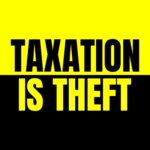 On tonights episode, Nick Sarwark talks about his recent mayoral campaign in Phoenix, Arizona, the future of the libertarian party, and many interesting topics include jobs, automation, borders, immigration, property rights, the 9th amendment, and so much more!
You can find out more about Nick on
Facebook: https://www.facebook.com/nsarwark
Twitter: https://twitter.com/nsarwark
Instagram: https://www.instagram.com/nsarwark/
And join the LP at : https://www.lp.org/membership/
Please subscribe to "Taxation Is Theft" to get weekly video updates:  http://bit.ly/2CUKmkU
Follow us:
Facebook: https://facebook.com/taxationistheft2
Twitter: https://twitter.com/taxationestheft
Swag:
https://taxationistheft.cards
Blog:
https://taxationistheft.info