The Taxation Is Theft Podcast:
All the ways the government is ripping you off, and what you can do to stop them!

"No Man A King" – Disaster Response Nada – Future Mayor of Lake Charles Louisiana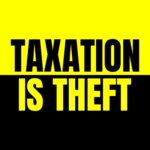 Join me on this one on one interview with Ryan Abshire, a Dedicated candidate running with no party and demanding change, "I burn any bridges that aren't letting everyone cross. Heavy is the head that wears the crown? Take it off." Ryan's cash app: $ryanabshire use this link to sign up and get $15 for free: https://cash.app/app/CWWMWNR Below are links to Ryan's recommended Facebook follows: https://www.facebook.com/hardtosoileau/ https://www.facebook.com/abshireformayor/ https://www.facebook.com/readfreelc/ https://www.facebook.com/VIPLakeCharles/ As always, check us out at taxationistheft.info and remember, Taxation is Theft!