The Taxation Is Theft Podcast:
All the ways the government is ripping you off, and what you can do to stop them!

Renee Altakrity – Arrested in front of her 4 year old son for protesting.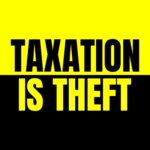 What happens when you exercise your natural right to protest in Australia? The cops cuff you and kidnap you in front of your 4 year old son. This is the story of Renee Altakrity, and she is here to tell it in her own words!
As always, check us out at taxationistheft.info and remember, taxation is theft!