The Taxation Is Theft Podcast:
All the ways the government is ripping you off, and what you can do to stop them!

The Redacted Caucus – A Voice for the Silenced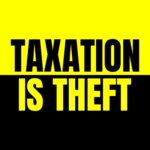 Brought to you by Nugg of Knowledge at nuggofknowledge.com
Trent Ortner is a founding member of the Redacted Caucus, holding a unity rally on April 24th in Austin. He's also a founding member of the Hibiscus society and other boogaloo groups.
http://redactedcaucuslp.org/
And remember to check us out at taxationistheft.info Never forget that Taxation is Theft!
As always, we are streaming on multiple platforms!
Find us on Facebook at https://facebook.com/taxationistheft2
And on YouTube at https://youtube.com/taxationistheft