The Taxation Is Theft Podcast:
All the ways the government is ripping you off, and what you can do to stop them!

The Roaring 20s: Moving the LP forward this Decade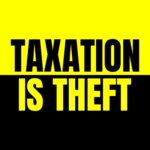 On this episode of the podcast, we have Victor Hinojosa! The LP has been stagnant for a long time. It's about time to change that! Dan and Victor talk all things LP from strategy and what counts as a win, all the way down to who should run. And remember to check us out at taxationistheft.info Never forget that Taxation is Theft!