The Taxation Is Theft Podcast:
All the ways the government is ripping you off, and what you can do to stop them!

Working for Liberty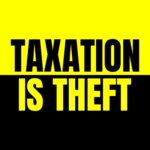 Win the amazing Opener 3000! https://taxationistheft.info/giveaway/amazing-opener-3000-giveaway/
Conner Drigotas is the Director of Communications at a national law firm and an adjunct professor at Lehigh University where he teaches business communications Amazon: https://amzn.to/3neBoTV Join the Discord community: https://discord.gg/HqyGyHJ
And remember to check us out at taxationistheft.info Never forget that Taxation is Theft!